About Us
Relax Rejuvenate Renew
ABOUT IT'S ALL ABOUT YOU MASSAGE AND DAY SPA
Living well means taking care of yourself and feeling at your best every day. It's All About You Massage and Day Spa provides a relaxing experience where clients can relax, rejuvenate, and renew. The spa was founded over seventeen years ago and has recently expanded.
It's All About You Massage and Day Spa offers a wide range of professional beauty services including Waxing, Lash & Brow tinting,facials, massage, body polishes, spa treatments, and Make Up Application. Our goal is to create a satisfying and transformative experience for each and every guest. We are dedicated to providing an inviting atmosphere and exceptional service.
OUR PEOPLE AND PRODUCTS
Our expert team of therapist and estheticians are certified and committed to continuing education and training to ensure you receive the most advanced services executed with the highest professional standards. We utilize only the best cruelty free, vegan, organic products including Lira, doTerra, and Senegence.
*contact It's All About You Massage and Day Spa to learn specifically which products are offered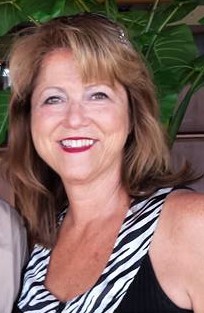 Owner & Licensed Medical Massage Therapist, Ma37028
Denise Smith LMTMMP
Denise has been a Licensed Massage Therapist since 2001 and a Medical Massage Practitioner since 2003. She specializes in post-traumatic injuries, working in conjunction with doctors and physical therapists to continue the medical care of her clients. Denise uses deep muscle manipulation, cross fiber friction, trigger point therapy, myofascial release and arom/prom in her medical massages to ensure her clients receive the best possible care. She also specializes in therapeutic, pregnancy and thai massage.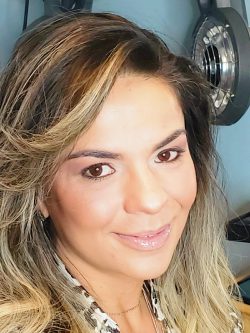 Esthetician
Gleice Fonseca
Gleice Fonseca is an esthetician, originally from Brazil, who obtained her Florida esthetics license in October 2018.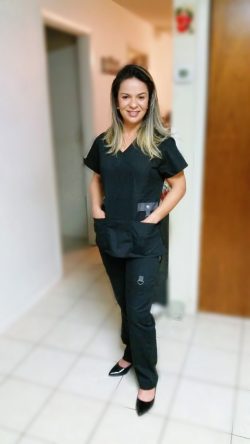 Since then, she has attended many additional advanced skin care courses and esthetics educational training in the science of the skin and its required care to keep the skin healthy and happy.
She believes the esthetics industry offers an on-going learning experience, and keeping up with available knowledge is key to being the best esthetician possible.
Her passion for skin care makes her job an enjoyable experience each day.
From Facials, Microdermabrasion, Chemical peels, full body waxing, and many other services offered, she takes pride in each treatment she performs.
Her favorites are exfoliation, extractions, and hair removal.
She finds it very fulfilling to connect with her clients, establish trust, and give personal attention to their needs.
Consulting with a client about their skin and making their visit an enjoyable, relaxing and pleasant experience is something she also enjoys very much.
Massage Therapist
Nicole Stephens
Nicole graduated from the Montgomery School of Bodywork & Massage in 2005, with a passion and natural gift for massage therapy. Her intuitive signature style of therapeutic treatment combines, Swedish, deep tissue, myofascial, craniosacral, and lymphatic therapies. She is also experienced in prenatal, infant, hot stone, and Thai. Through thoughtful communication and listening to the body she creates a customized massage for total well being of the mind, body, and spirit.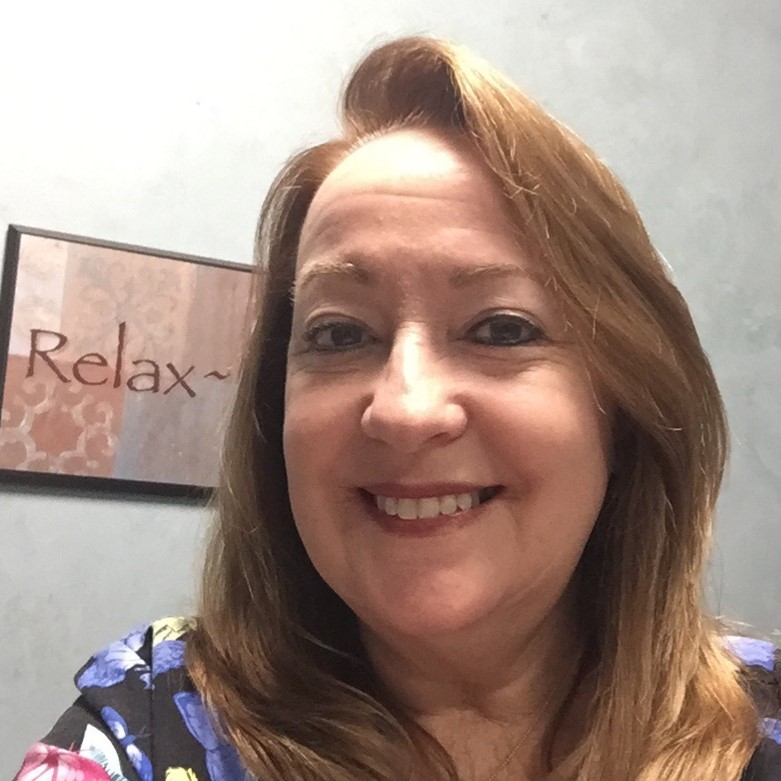 Massage Therapist
Susan Adams
Susan has been a licensed Massage Therapist since 2016. She has additional certification in Ace Medi cupping which is a vacuum therapy that uses active moving cups that don't leave marks. The cupping cocoon for detox is a favorite of hers. She also uses Micro point stimulation which is like Acupuncture without the needles. Her desire is to help relieve your pain as well as relax your body so you can find your healthy balance again .
BENEFITS OF MASSAGE:
Active Release Therapy:

Kinesiolgy Taping:

lymphatic Drainage:

Neuromuscular Massage:,

Cupping Massage:

Swedish Massage:

Orthopedic Massage: and Sports Injuries. It involves therapeutic assessment, manipulation, and movement of tate pain and dysfunction.

Active Isolated Stretching and Strengthening (AIS)

Sauna for sweating out toxinsrovides an effective dynamic facilitated stretch of major muscle groups, but Saunamore importantly, functional physiological restoration of muscle, tendon, vertebrae, ligaments, and joints

• Mechanical cleanser of lymph system
• Relaxes muscles / relieves tension
• Improves general circulation and nutrition of tissues and joints
• Stretches connective tissue and breaks down / prevents the formation of adhesions
• Disperses edema following an injury to ligaments and tendons, lessons pain
• Helps reduce blood pressure
• Improves range of motion
• Relieves TMJ

You may have seen this on the Olympic athletes in the summer 2008 games. It can be used to treat a virtually limitless number of ailments and injuries. It mimics the qualities of human skin and can provide proven, comfortable treatment at any age or condition.

Relaxation Massage:

One way this can be done is with Hot Stone Massage, done by Susan. Hot Stone Massage is a massage technique that dates back to ancient times. The heat from the stones warms and relaxes the muscles, which allows for deep pressure, if desired. The warmth improves circulation and calms the nervous system. It also improves osteoarthritis and arthritis pain. It helps reduce stress, tension, insomnia and depression. Hot Stone Massage is an hour and a half experience of complete relaxation and healing that your mind and body will be ever so grateful for.

Couples Massage:

Two people can get a massage in the same room at the same time. Male and female therapists are available. If you have a friend whose a little bit timid about getting their first massage, this is a great way to get them in and get them started.